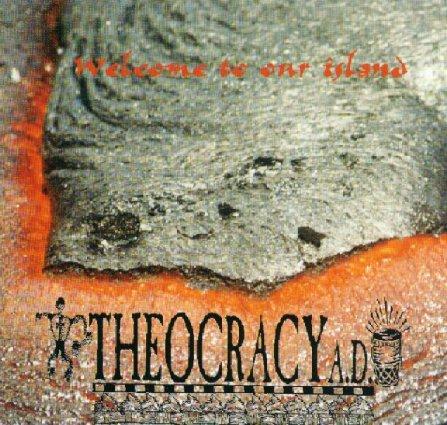 Welcome To Our Island
---
.....and welcome to some "pacific-power-noiz-core" ! Theocracy A.D. holds nothing back and unleashes RAW, HOLY ENERGY on this one, with 11 unrelenting hard-core melodies. This CD, the long awaited follow-up to Fattened & Slaughtered, contains totally re-recorded material off of their original demos and some totally new ear-shredding grindage.
Songs like:
Common Sense

Yield To None

Cathartic Release of Aggression

Least Of These

Reach Down

Nothing But The Truth

How Long

Behind The Wall

Same Old Lie

BLOODBATH
Sound Samples coming soon !!!!!!!
---
If you want to order this bands material or just have questions,
send the band e-mail or write them yourself at the addresses below.
CD Welcome to Our Island...............................$10
T-Shirts

T-Shirt #1:

Theocracy A.D

$10.00 U.S.

T-Shirt #2:

Bar Code (I Cor. v 6:20)

$10.00 U.S.

T-Shirt #3:

You Need God

$10.00 U.S.
add $2 S&H for each CD or T-Shirt ordered within the U.S. and $4 S&H for all foreign orders.


Theocracy A.D. Sticker

$ .50 each or 3 for $1
(Please just include a S.A.S.E when ordering stickers)
Send check or money orders to:


THEOCRACY A.D.
P.O. Box 893911
Millilani, Hawaii 96789
We hope you will enjoy our new CD and we thank you in advance for your support.
If you live on the island of Oahu, the CD can be found at Towers Records, Hungry Ear, Jelly's, Borders, and other record and Christian book stores here in Hawaii.
Feel free to send us e-mail !!! Just click on one of the "E-mail"'s below.
ninerfan@lava.net 103426.1653@compuserve.com discarn8@hits.net


God Bless !!

Fish image courtesy of Stuart Purkey