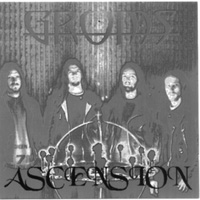 ---
GROMS was a great death metal band hailing from Norway with a sound of their very own. In my opinion, If you like the pace and growl of Mortification's heavier stuff, with a hint of Paramaecium, then you WILL like these guys. Unfortunately, the band has broken up with no plans to get back together, but I'm sure one or two of the band members will go off to start their own projects, so the we will have something to look forward to in the future. They had these two releases available and a third was rumoured:
TURN '93
a demo tape and nearly impossible to find
ASCENSION '94
Ascension (Artic Serenades (1994), Nuclear Blast (1995), Pleitegeier(1996))
9-tracks and available only on CD
....and rumoured was....
I BESEECH THEE
?? '96 ???
---
So, who was G.R.O.M.S and what does it mean ?
Øyvind Haugland: Guitar and vocals
Haaken Johannessen: Bass
Petter Gordon Jensen: Drums
Hans Dalen: Lead guitar
and...
G.R.O.M.S stands for..God Rules Over My Soul
To hear a sample of their style, download this .wav snippet of them.

Sound sample coming soon
---
The old mailing address for reaching them was the address below, but I can't promise this is still valid:
GROMS
Box 3536
N-4602 KR:Sand
Norway
_________________________________________________________
Any current info concerning this page is GREATLY appreciated...
or if you know where a copy of the demo, TURN can be located :)

HTML-ized by Rich Combs
Last updated on 18 March 1997
This page dedicated to Jim Boutcher, Steve Sturtevant and Dan Noonan.